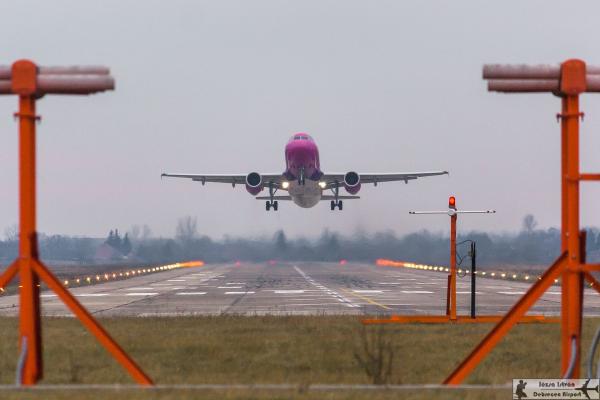 ​​
Wizz Air, the largest low-cost airline in Central and Eastern Europe, today announced a new route from its Debrecen base to Moscow. The newest WIZZ route will commence on 18 December and will be operated with two weekly flights, on Mondays and Fridays. Seats are already on sale with fares starting from as low as HUF 8,990*.  
Wizz Air's first commercial flight took off from Debrecen Airport in 2012 and since then, the airline has constantly expanded its Debrecen network, which now consists of seven low-fare routes to seven countries. In 2015 WIZZ based one of its new Airbus A320 aircraft at the airport investing $100m** in the region. In the past 12 months, WIZZ carried 275,000 passengers on its low-fare Debrecen routes, which represents a 12% growth year over year. Wizz Air's operations this year support over 200*** local jobs stimulating aviation, transportation, hospitality and tourism industries in the region.
The new Debrecen service is already the third route to Russia in WIZZ's ever-growing Hungarian network. Since 2013, the airline already connects Budapest with Moscow with a daily flight and just recently launched a Saint-Petersburg service from the Hungarian capital, which stimulates incoming tourism to Hungary with more travelers willing to discover the country as well as plan a multi-city European journey on Wizz Air's low fares.
Being the hometown airline of Hungary, Wizz Air currently operates flights from two Hungarian bases in Budapest and Debrecen with a total of 12 aircraft in the country, and two more aircraft to join the Budapest fleet in 2018, increasing the capacity on routes from Hungary to 5,5 million seats.
In the past 12 months, more than 4 million passengers flew with WIZZ to and from Hungary, 17% more year over year. With 15 new services commencing this year, and two more in 2018, WIZZ now offers 73 routes from its two Hungarian airports.
WIZZ AIR'S NEWEST ROUTE FROM DEBRECEN
| | | | |
| --- | --- | --- | --- |
| Destination | Days | Starting date | Fares from* |
| Moscow | Monday, Friday | 18 December | HUF 8,990 |
Speaking at a press conference in Budapest József Váradi, Chief Executive Officer of Wizz Air, said: "Following the massive growth of our Budapest network in 2017, I am pleased to announce the addition of a new long-awaited route to our Debrecen network as well. Connecting Debrecen with Moscow, we expect this bi-weekly service to further stimulate economic, trade and business relations between the two countries and we are also confident that our low-fares will attract more visitors to Hajdu-Bihar County, which will positively influence tourism and hospitality sectors in the region. We remain committed to our Hungarian customers and keep on developing our ever-growing low-fare network."
Dr. László Papp, Mayor of Debrecen added: "The development of Debrecen is in part powered by Debrecen International Airport! As the city's strategic aviation partner, Wizz Air has set the airport on a course of dynamic growth, having a significant effect on the economic life of Debrecen. In the year of Wizz Air's first commercial flight from Debrecen, the airport registered 50,000 passengers, while in 2017 we are expecting to reach 320,000 passengers. Along with this, Debrecen tourism enjoys a growth of over 10%, in close correlation with Wizz Air's network development. A great example of this is the fact that thanks to Wizz Air's Tel-Aviv route, launched in March this year, Israel became the biggest sending country to Debrecen by May. What we expect from the new Moscow route is also to contribute significantly to the development of the economic, touristic and scientific relations in Debrecen and the region."
István Herdon, CEO of XANGA Group, the operator of Debrecen Airport said: "On behalf of Debrecen Airport we are delighted to see the announcement of the long-awaited Debrecen-Moscow route, to be operated by Wizz Air starting 18 December, 2017. For travelers to Russia, whether from Eastern Hungary, Transcarpathia, Partium or Eastern Slovakia, there are now more direct routes available from Debrecen Airport, and easier access to the capital of the largest country in the world. Business travelers, tourists and students from Russia can now enjoy a direct service to Debrecen and the Eastern Hungarian region with a wide range of wellness, recreational and cultural offers."
*one-way, including taxes and non-optional charges
** http://www.airbus.com/newsroom/press-releases/en/2017/01/2017-price-adjustment-for-airbus-modern-fuel-efficient-aircraft.html
*** ACI suggests creation of 750 on-site jobs for every 1 million carried passengers per year
About Wizz Air
Wizz Air is the largest low-cost airline in Central and Eastern Europe, operates a fleet of 85 Airbus A320 and Airbus A321 aircraft, and offers more than 500 routes from 28 bases, connecting 142 destinations across 43 countries. At Wizz Air, a team of approximately 3,300 aviation professionals delivers superior service and very low ticket prices making Wizz Air the preferred choice of 23.8 million passengers in the financial year ended 31 March 2017. Wizz Air is listed on the London Stock Exchange under the ticker WIZZ and is included in the FTSE 250 and FTSE All-Share Indices. Wizz Air is registered under the International Air Transport Association (IATA), Operational Safety Audit (IOSA), the global benchmark in airline safety recognition. The company was recently named 2016 Value Airline of the Year by the editors of Air Transport World, one of the leading airline trade magazines, as well as 2016 Low Cost Airline of the Year by the Center for Aviation (CAPA), a leading provider of independent aviation market intelligence.
Book flights: https://wizzair.com/#/ 
Press Release
Debrecen Airport